Hello readers!
In this next blog post I'm giving you the chance to comment whether you prefer the book or the film of the first How To Train Your Dragon. Reading this blog post and watching the trailer of the film count if you haven't seen or read the book or film, so don't worry, because most of you probably haven't read the book anyway.
So, let's begin…. (buy the book here)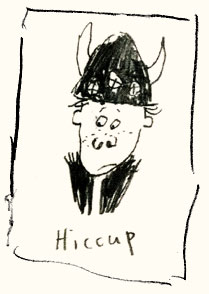 Hiccup Horrendous Haddock the Third lives on the Isle of Berk, is the son of the chief, Stoick the Vast, and isn't much of a hero… yet. Beginning the Dragon Initiation Programme, Hiccup captures a dragon who he names Toothless, because of the creature's lack of teeth. Toothless grows stubborn and difficult to train, and Hiccup soon loses hope of passing the final test of the Dragon Initiation Programme, leading to being thrown out of the Hairy Hooligan Tribe for good. But when a dragon the size of a mountain washes up on the shores of Berk, it's up to Hiccup to save his village….
What a fun and thrilling story, packed with jokes. How To Train Your Dragon is the first of Hiccup's many adventures and it's an enjoyable tale that is highly recommended for children. The book couldn't be more different to the film, if you've seen it; it's a whole new plot, just with the same characters. But I like how they are SO different because it creates two wonderful stories with the same awesome characters. This novel will go down in Viking history….
Simi Star rating: ***** (5 stars)
Please comment below if you have an opinion of the book or film. Thanks, Simi